TESTIMONIALS
For us new Cane Corso parents learning'' true facts'' about our breed such as the beautiful ''Cane Corso'' Our Breeders stand behind their name. Trust me they go way above their ways and means to make sure ''first'' you are the responsible new parent 's to live up to their expectations as to who will be the perfect home and parents for their babies. We have ''No issues'' to follow and sign a contract stating you we are to be held responsible to make sure this Corso is raised properly and have the finances to properly take care of all his/her needs.

Always keep in contact with your Breeder for any concerns and if they know their shit like ours they will surely go out of their way to answer and help you. This told me right away these are caring ppl. and earned their respect in their guidelines and what that expect from a responsible handler/Owner. These ppl. are ''No Backyard'' Yuppies looking for a buck. This is just what ''Real Caring Breeders Do'' We were and are blessed to have Paul and Sandra Whitman as our Breeder. Hats off to you too if you can find these kind of amazing ppl.

Thank you Paul * Sandy Whitman for we are blessed with one of your babies.
---
Paul and Sandra,
I have had the pleasure of knowing you both for over 13 years! Come this October I will have had the honour of owning 3 Del Ecousse Cane Corso's. I can not even put into words how amazing they were and are!! Fia is so amazing in every way...animals .. People .. Kids! She has been amazing at obedience.. So easy to train because she is very food driven!! I just wanted to thank you from the bottom of my heart for this joy in my life!! Your passion and understanding of the breed is apparent from the first time we met!
Many thanks,
Dana


---
Hi. We are just writing to say how happy we are with our dog Gemma. She is a very affectionate, loyal, loving dog. She is awesome with children, and just a great all around family pet. I would recommend this breed to anyone who wants a good pet for the family. We are very pleased.


Thanks so much.
Dawn & Kevin
---
We were ecstatic when Paul told us that we were getting pick male of the first breeding between Abby and Navarro. Throughout Abbys pregnancy, Paul and Sandra kept in touch with us, letting us know how everything was going, we even got pictures of the x-rays during the gestation. As soon as Abby had gone into labour Sandra was so excited and called us right away, we could not wait to find out what the pups looked like, how many there were, and if they were healthy. Abby gave birth to only two pups, but they were healthy and beautiful and Abby was a wonderful mother.
We visited Jerry several times before he was ready to leave his mother as we wanted him to be use to and comfortable with us before we took him to his new home. He was a wonderful puppy and received the best of care from Paul and Sandra. It was very difficult when it came time to bring Jerry home with us. They did not want to part with him and had become very attached to him and his quirky ways. They had come to know us from our visits, phone calls and e-mails and knew that we would give Jerry a wonderful and loving home.
We have kept in close contact with Paul and Sandra as we have tried to keep a close bond between Jerry and his littermate Silia who lives with Paul and Sandra. By attending obedience class together and having play dates so that they can spend time with one another we have succeeded and they truly love one another.
Paul and Sandra have gone above and beyond what other breeders do. They have a true love and connection with Jerry who loves them with all his heart. Every time he sees them he is so excited. He has not forgotten the love and stability that Paul and Sandra provided to him as a puppy. They have become great friends and have coached us throughout Jerrys puppyhood. They were and are always willing to provide sound advice that has given us confidence and knowledge to raise Jerry into the confident and intelligent dog that he is today.
We love Jerry with all our hearts; he is a wonderful dog, friend and companion. We thank Paul and Sandra for everything that they have done for us and are thankful for the friendship we have made with them.

Alicia Hayes & Fred Gibson
---
Over the past few years, I have come to know Paul and his dogs. To the Whitmans, their pups are not just dogs but are part of the family. They take great care to make sure their dogs have a stable and well-rounded upbringing to produce stable temperaments which is highly sought after by families purchasing his pups. I have personally evaluated many of his pups and would highly recommend Paul to anyone interested in obtaining one of these breeds. His knowledge of the breed and his general knowledge of dogs is second to none in the industry. Their dedication to the promotion of this breed in North America has been recognized and respected by some of the most prominent people in the industry.
Doug Teeft
Professional Trainer and Consultant
Nova Scotia
---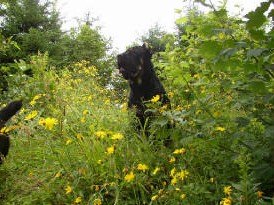 I have owned 3 Cane Corsos and currently have two Cane Corsos, all from different breeders. My last Cane Corso I received from Paul and Sandy Whitman of Del Ecousse kennels in Nova Scotia Canada. I had the priveledge of watching this litter grow from a very early age. Unfortunately for many of us it is not always possible to see a breeder with their puppies first hand. Paul, Sandy, and their daughter Niki dedicated a lot of time and love into the raising of this litter. It's nice to see a breeder feel such remorse over parting with their pups, and it was clear the Whitmans had a hard time letting go. Driving all the way from Nova Scotia to New Jersey, and I imagine they still had to pry the pups from you....lol... I named my puppy Fat Tony, in keeping with the Italian theme of the breed, and because he was one of the larger puppies in the litter. He's now 9 months old, and has developed into the most pleasant dog I could ever ask for. I find him to be very stable and confident. He's eager to please, friendly with all people, and you can tell by the wag in his little stump that he's a happy boy. Since first becoming interested in the breed I have found Paul and Sandy have always been there for help and advice. Their genuine interest and respect for the Cane Corso breed shows in the way they'd talk for hours on the topic. Watch out, a 20 minute visit to the Whitmans will turn into 2 hours! In conclusion here, thankyou for the joy you gave me in Fat Tony Del Ecousse. He's a great boy from some great folks.
Wish you the best of luck.... Andrew Mailman
amailman@hotmail.com
1-506-866-7238
---
Here are some pics of Nero's Little Asia Del Ecousse; at just a bit over 10 months born July 9, 2003) she weighs 94lbs. I have owned and known numerous breeds of dogs and I must say that Asia is just amazing. Her build is very muscular and she is extremely strong and smart. As you can see Asia loves people and especially kids. She also gets along well with other animals; even the neighbors cats don't bother her the least.


My Cane Corso is a great companion, a great guard dog (family and home), loves the outdoors (especially the water) and is my best friend. Anyone who purchases one of these animals will not be disappointed. Sandra and Paul have done an excellent job of raising these companions and educating potential owners about the breed. When I purchase another dog it will definitely be a Cane Corso Del Ecousse.

Sincerely,
Dana LeMoine & Nero's Little Asia
Lower Sackville, NS
---
I met Tika, Nero, and Paul a few years ago in a Halifax park, and was so impressed by the dogs appearance and demeanor that, two years later when I was in Halifax again, I visited them at their home. Since our first meeting, I had considered purchasing a cane Corso, and after witnessing the loving relationship Paul and Sandy shared with Tika, Nero, and the puppies, and the excellent living conditions in which the dogs were raised, I decided that I would not buy a Cane Corso from any other breeder.

My chance came when Tika gave birth to another litter of puppies in July 2004, and Argus Calisto Del Ecousse (Gus) arrived via Air Canada in Edmonton on September 22. He emerged from his kennel, friendly and unafraid, and apparently unfazed by the seven-hour flight. He leapt with excitement when we unwrapped the stuffed monkey Paul and Sandy had packaged and taped to his kennel, his favorite toy from back home. At the time, Monkey was as big as Gus, and when they wrestled, we had trouble telling the two of them apart.

Gus quickly adjusted to his new home with us, and grasped the concept of housetraining well.
He has continued to demonstrate his intelligence, and last week graduated at the top of his class in basic obedience training. His favorite activities include playing with his buddies at doggy daycare; meeting dogs (and their humans) at the off-lead park; wrestling with his sister Sadie (a cairn terrier cross); cuddling with his dad on the couch; untying rope knots (hence the nickname
Gusdini); licking the neighbors kids; and visiting the local Movie Gallery and Running Room, where everybody knows his name. Admirers regularly stop us on the street; many are amazed by Guss relaxed and pleasant behavior. He can also put on his serious face, however, when appropriate. He delivers a fearsome bark when he hears strangers in our back lane at 3 am.

Gus has exceeded all my expectations. He is handsome, friendly, intelligent, and an excellent protector. I cannot recommend highly enough Paul, Sandy, and Cane Corso Del Ecousse kennels. I spoke with Paul or Sandy almost every day for 10 weeks after the puppies were born, and they continue to take a genuine interest in Guss well-being today. I am grateful that I had the good fortune to happen upon such a dedicated, knowledgeable, and caring breeder that day in the park.

James Maclean
Edmonton Alberta
jidmaclean@yahoo.ca
---
CONGRATULATIONS TO CORSO ON HIS HIP SCORES IN THE 90TH PERCENTILE!


Corso has a very sweet temperament. He is a big boy at 140 lbs at 3 years old.
He is available for stud to select females.
Corso belongs to Denise and Dan Mackay of Halifax
---
I had the absolute pleasure of meeting with The Whitman's for the first time in 2004. Paul, Sandra and their daughter Niki had packed up the 12 lil pups in Nova Scotia and headed to the States to bring the little ones to their new families. With Paul's guidance I picked a little girl they had named Carmella soon to be named Bella Gianna. They knew I had a 5 year old son, and after the elaborate temperament testing Paul does on his puppies at 7 weeks of age,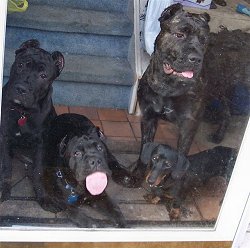 he found his little Carmella would do the best in our home. My best friend Carolyn was also getting a puppy from the same litter and chose Dante to be her new little man.
As this was my first Cane Corso, I had many questions, Bella had a sensitive tummy and I needed lots of support to help her through this. Paul and Sandra were always there 24/7 for me. I could email, or call them on the phone and they were always advising me as to what to do. No problem or question was ever too much, as they always took the time to help me through it. Even when there was no problem or question we would still write back and forth every couple of days. It is now 2006 and we still have the same routine.
I was supposed to get another little pup from the Whitman's due July of 05. But Porsche had a false pregnancy. That was sad as I was so excited for the new addition, but not to worry as Paul was going to give it another try in a few months and he did .... and this time it took !! My new puppy was due to be born in Jan 2006. Carolyn was also getting a little boy from this litter too. She had first pick male and I had second pick female. We counted down the days together as we now knew, we would soon be getting another set of puppies.

On Jan. 16th, Porsche and (Sancio) had a litter of 2 pups. Oh no ! One boy and one girl. Being second pick, I was too far down the list to get a puppy this round. But Carolyn was getting a very adorable boy and that made me happy. Paul did all but stand on his head for me during this time. But it was not written in the stars for me to have the only little girl in this litter. Paul contacted Chris, a breeder, who just had a litter, (the momma being a dog from Pauls first litter), her name was Mona. she had just had 12 pups, this was my Bella Gianna's older sister. Paul and Chris made arrangements for us to go see the new pups. They were 9 weeks old. I didn't go there intending to buy a dog, but I did want to see the puppies. I figured I would probably wait until Paul bred Miss Porsche again next year.
When we arrived, these beautiful puppies ran out all at once with their scrunched up faces, wagglin nubbs, and curious attitudes, i was instantly in love. Chris let us use his guest house and we took all day going over each dog and taking notes. We brought Carolyn with us so she could help us keep everything straight. When it came time to choose, we narrowed it down to one boy and one girl, yes, that is right TWO puppies ! We called Paul and talked to him, going over all the notes and asking for his guidance once again. Even on a busy Saturday we had his undivided attention. He helped us make a great choice. Both da Vinci del Ecousse and Verrones Adrianna del Ecousse are awesome. All three of my Corsos have great temperaments and are all doing great in show.. as confirmation is also a huge part of our corso lives. I could have never gotten through raising these Corsos without Paul and Sandra Whitman.

I had the opportunity about 3 weeks ago to go with Carolyn to Nova Scotia to pick up her puppy, Don Marco, as he was now 8 weeks old. What a wonderful experience. I not only got to see Paul and Sandra again but I got to meet their four Corsos. Tika and Nero (who are my Bella's parents) and Porsche and Leone (her older brother and sister). What great dogs ! I have never met two people more dedicated to their dogs than the Whitman's. Never. The love that pours from the hearts of these two, for their dogs, is just nothing words can describe. You would have to see it to believe it. Paul is the epitome of breeders. His heart is in the betterment of the Cane Corso. Someday I hope to be even one half the breeder Paul is.
Thank you so much Paul and Sandra for all that you have done for us over the last few years, not only are you our breeder, but our dear friends. It is an honor to campaign del Ecousse kennels, raise these Corsos, and recommend your dogs to anyone who is serious about devoting lots of time, energy, money, and most importantly all the love they have to give. Because a Whitman dog deserves nothing less.

Thanks again,
Tammy T. Webber
Bella Gianna, Adrianna and da Vinci
tbonez@aol.com
---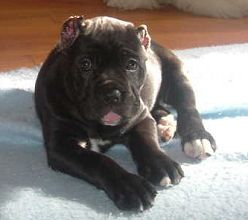 Our introduction to the Cane Corso breed began in 1998 with the addition of Zoe. Zoe was an outstanding pet. Extremely affectionate & loyal; very intelligent & a great protector. Unfortunately for us; we lost her to illness at the young age of seven. This has been the most difficult thing for my wife & I to deal with in our lives. After long reflection; we decided that it was
important to us to have another Cane Corso in our lives. We started searching for breeders & knowing the from past experience to be very careful & cautious in our selection to ensure we would get a Cane Corso that was healthy with a stable temperament & clean bloodlines. We contacted many breeders in Canada & the US but were unable to find a breeder that we could get a true feeling of comfort with. Instead of taking the risk of purchasing a pet that would not meet our expectations we had actually decided to our own disappointment to purchase a different breed. It was then by luck that we came across Paul & Sandra Whitman. We made our first contact with Paul & Sandra in July 2003 & from that point forward the relationship has been nothing but positive. I was able to meet with them in August of 2003 & was introduced to their four beautiful Cane Corsos. Then my wife & I returned in September to get her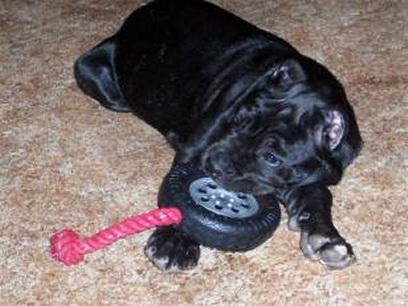 stamp of approval. There knowledge & commitment to the breed is exceptional. We have spent the last two years in constant contact & on January 16, 2006 our new bundle of joy Sophia was born. Sophia is the daughter of Porshe Del Ecousse & Tanzerella's Sancio Ramirez Di Sleeping Giant. Our little girl is outstanding; At three months of age & prior to obedience training she has already learned numerous commands. She is very affectionate; always happy; loves to interact with us & our two Siamese cats who are still adapting to their new sister. We believe as does Paul & Sandra that she is going to be an outstanding example of the breed. I would recommend Paul & Sandra to anyone with a serious interest in this breed. Their knowledge & commitment to the breed is unsurpassed. They truly raise their puppies as part of the family (this is not just a promotional statement to sound good for prospective purchasers) as well as the four adult Cane Corsos that they own. They have been & continue to be very supportive & accessible up to the purchase. Since the purchase we have been in contact on a regular basis via phone & e-mail.
Brian and Holly
zoemac@nb.sympatico.ca
---
I wanted to write a testimonial for Paul and Sandra that would explain the love and expertise of these two wonderful people. That is a very tall ambition on my part because they are so dedicated to the breed and simple words cannot explain them. In my own way I will try to do them justice.
Before actually meeting Paul and Sandra; we started emailing. They sent me pictures of the pups as they grew. It was so amazing to watch them grow and develop. I thought then: what nice people to take the time to send pics of the litter. It does make a person feel so involved and informed. I first met The Whitmans when I went to pick up my first cane corso-------Dante. I was looking for a show dog and above all a dog with great temperament. They were very patient with me as I surveyed the puppies and took my time deciding. I had many questions about the pups and no question was too trivial to them. I felt their honesty right away. I left there knowing that no matter what ====I could count on the Whitmans for help and support. Dante has turned into a handsome boy with a very loving personality. He did champion in the show ring . His penn hip scores were in the 80th percentile. But most of all: I just love him to bits. He has brought much joy to my life.
Then one evening Paul called me and we discussed a future puppy. The excitement built so high in me again. He was going to breed his female Porsche to Sancio in the hopes of getting even better puppies. I was allowed at this time to have male pick of litter! Oh what an honor. I waited with much anticipation------almost like a pregnant mother myself. The pups were born and she had one male and one female. Paul and I spoke about show prospects and we decided to watch as the pups developed. I had said to Paul---------she could have had 10 and perhaps the choices would be the same or not or she could have one and that pup be the best. We watched as my male developed. He was and is awesome! So my friend Tammy and I waited as time moved to the 8 week mark. We then took the trip to Halifax, Nova Scotia to get my lil boy! I had decided to name him: Don Marco Del Ecousse.
We were like two kids going to an amusement park. The traveling was fun and the anticipation of seeing Paul and Sandra and the dogs was overwhelming. We arrived at their home and it was the welcome mat all the way. The Whitmans and their dogs took us into the fold! We stayed up and chatted about dogs. We played with dogs. You can almost say we ate ,slept and dreamed dogs! I learned so much and had so much fun that I did not want to leave!. Paul and Sandra even had time to show us around their lovely town. They sure knew how to make us feel welcomed. Their dogs are true cane corso's that are at first glance protective of their masters and then relax when the people there are accepted. Each one has a different personality but they were all great. I have had Don Marco 3 weeks now and he is learning fast and gets along very well with Dante. They play for hours and it is a pleasure to watch. We have started puppy kindergarten and he is a confident boy. I would recommend getting a puppy from the Whitmans as they are truly dedicated to this breed and they will always be there for you. They are constantly trying to improve the breed and educate the public. I would also like to add that my vet thinks that puppies from the Whitman's are very healthy and good breed quality. He loves their temperaments and says they are a vets dream!
In closing I would like to say---------we are lucky to have Paul and Sandra in the Cane Corso community. Thank-you for your dedication.
Carolyn Meloni
c.meloni@comcast.net
---
Well, I cant say enough about Paul and Sandra Whitman. When I started researching the breed a few years ago Im sure I looked at a thousand websites. Finally, I was informed that there is a breeder very close by in Halifax who seemed to be doing the right things with his program and is very well educated about the breed. After having met and becoming friends with Paul and Sandra I couldnt agree more. Both Paul and Sandra are extremely knowledgeable about the breed and it shows in their ability to easily converse about the breed for hours. I have developed a great respect for Paul and Sandra, not only for their knowledge and passion but also for their honesty, integrity and motivation to further the breed.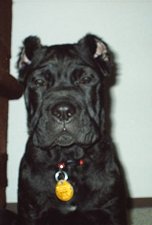 As it happened, I missed out on two Del Ecousse litters. Needless to say,
I was quite disappointed. Paul and Sandra understood that I had been waiting anxiously for a pup and luckily, Paul knew of a litter born to a littermate of his Dam, Porsche. We looked into it and decided to co-own the male we now know as Abruzzi Del Ecousse. Under Pauls guidance and critical eye we acquired a wonderful specimen of the breed and an amazing family dog and companion. Bru has remarkable temperament and is a very social dog that craves affection from whoever he comes in contact with. I cant express how fortunate I feel I am to have found Cane Corso Del Ecousse and my little guy Bru. I have only good things to say and would recommend Paul and Sandra to any committed owner looking for a great Cane Corso or just information on the breed; youll get the straight goods.
Thanks so much Paul and Sandra for little Bru and all the guidance and mentorship youve so freely offered since our first meeting.

Jeff Munro
Drayton Valley, Alberta
jdmunro@dal.ca
---